Featured Artist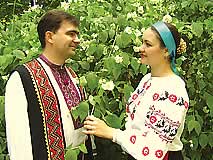 RUSHNICHOK
The project by Alexsey Zakharenko AKA Origen
This time the soloist of Origen Tanya Lubimenko and Miroslav Grishko, laureates of the first prize of the All- Ukrainian folk music and arts contest will demonstrate you all the beauty of the Ukrainian folk music and prove that Ukrainian songs are realy Slavic treasure.
They say it is one of the best CD in Eastern Europe.
Recorded and produced by Alexsey Zakharenko AKA Origen

Praise the Lord
by Kyiv chamber choir
If you want to know why the New York Times and Washington Post wrote about Kyiv chamber choir and why they were invited to the White House to sing during the annual VIP viewing of the Christmas-decorated White House, than listen their singing.
read more and hear
ORIGEN: DANCE OF THE CLOUDS from CD: "Era of Aqurius "


This video produced by Andreea [an error occurred while processing this directive]


FEATURED ALBUM
ORIGEN
NEW AGE OPERA


BESTSELLER


ORIGEN


AVE MARIA



ORIGEN'S DISCOGRAPHY

Click the album to listen and download MP3s
SPECIAL OFFER FROM ORIGEN

Buy Origen's complete 7-CDs set directly from Origen Music now
SAVE 35% and get exlusive bonus CD:
"Origen & Friends- Conquest of Paradise" for free.


35% OFF + BONUS CD AND NO MIDDLEMANS

Electronic new age music
The forays into the mysteries of art & sound, based on large body of work both Classical and New Age & coupled with a propensity to evoke classical images, make Origen a distinct journey towards areas of music that remain distant for our imagination
read more and hear
mp3 download



Era of Aquarius


[an error occurred while processing this directive]



THE BEST
EASTER GIFT

ANTHOLOGY OF
SACRED MUSIC



vol.1 and vol.2


Click here to listen

BUY AT CD BABY



CD: New Age Opera


mp3 download
The best cover songs by Origen
This CD contains original music by origen and some famouse cover songs such as "Conquest of Paradice" and "Time to say goodby"