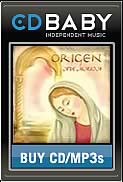 AVE MARIA
BESTSELLER
CD: Ave Maria is the most popular and best selling Origen's album. It is beautiful New age meets classical rendition of Ave Maria song by Schubert, Bach, Gounod Caccini, A.Zakharenko, + Pachelbel canon in D, Moonlight sonata and more.
Ave Maria, Schubert version
Schubert's Ave Maria was composed in 1825. Originally
Ave Maria song was titled "Ellens dritter Gesang"
(Ellen's third song). The words to Ave Maria song were taken from Sir Walter Scott's poem
The Lady of the Lake
and Adam Storck wrote the German translation Schubert used for his Ave Maria song. The person responsible for setting the
lyrics of Schubert Ave Maria in Latin remains a mystery to this day. This Schubert's Ave Maria song version include both Latin and German lyrics.
Ave Maria, Bach -Gounod version
In 1853 Ch. Gounod made variation on the 1st prelude of Bach 's "Well-tempered Clavier" for violin and piano and six years later the words to Ave Maria song were added and this made Bach- Gounod version so popular.
Download Ave Maria mp3 at CDBaby.com
Listen all tracks
iTunes