PLAY GUITAR WITH DIRE STRAITS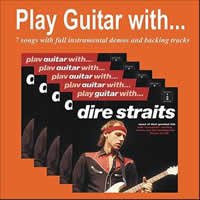 INSTANT DOWNLOD
This unique collection contains guitar backing tracks of Dire Straits greatest hits. There are two versions of backing tracks for each song.
Full instrumental performances (backing track with guitar)
Backing track for guitar
(backing track without guitar)
This gives an opportunity to practice playing simultaneously with Dire Straits solo guitar. Then you can play solo alone.
Track list
1. Walk of Life
2. Sultans of Swing (Backing track only)
3. Money for Nothing (Backing track only)
4. Romeo and Juliet (Backing track only)
5. Solid Rock (Backing track only)
6. Private Investigations (Backing track only)
7.Going Home (Backing track only)
8. Walk of Life
(Full insturmental performances)
9. Sultans of Swing
(Full insturmental performances)
10. Money for Nothing
(Full insturmental performances)
11. Romeo and Juliet
(Full insturmental performances)
12. Solid Rock
(Full insturmental performances)
13 Private Investigations
(Full insturmental performances)
14. Going Home
(Full insturmental performances)
Dire Straits - Sheet Music Download
Dire Straits: Backing Track List
Play Guitar with Dire Straits (mp3 album)
Brothers In Arms
Lady Writer
Private Investigations
Why Worry
Your Latest Trick
Tunnel Of Love
BROWSE ALL BACKING TRACKS