50 GUITAR BACKING TRAKS
& Improvisation Lessons
50 Rock / Jazz / Classic / Funk Blues Styles Jamming Backing Tracks for guitar. All tracks comes with the keys, scales and improvisation tips and can be used for either electric or acoustic guitar.
Click Here To Start
Think that you're an advanced guitarist, then the next package is right for you
.
PLAY GUITAR WITH
DIRE STRAITS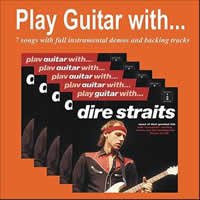 This unique packege contains guitar backing tracks of Dire Straits greatest hits. There are two versions of backing tracks for each song.
Full instrumental performances
Backing track for guitar only
This means that in the beginning you can practice playing simultaneously with Dire Straits solo guitar and then play solo alone.
Do not miss this opportunity
Try it now
BROWSE ALL BACKING TRACKS
VOCAL TUNING AND PITCH CORRECTION
All singers know that usually vocal studio recording has pitch issues. However, vocal pitch correction will help fix flat or sharp notes and clean up your vocals.
Click here
if you feel you have some problems with your vocal tracks