The Google Music store offers more than 13 million tracks from major labels such as Universal Music Group, Sony Music, EMI as well as several independent labels and aggregators, including SongCast.
Listeners can purchase individual songs or entire albums right from their computer or Android device and they'll be instantly added to their Google Music library, and accessible from anywhere. Prices will vary from $.99 cents to $1.29 
If you are a current Song Cast  artist  your music will be automatically added to Google Music very shortly. New artists signing up will also be delivered to Google Music at no  cost.

As an exciting new feature, the Google Music store has been integrated with the Google+ social network. This connection allows you to share the songs you purchase with your friends via the Google+ service. Your friends will be able to listen (or stream) each song you purchase one time at no cost. This unique sharing feature has the potential to make your next song a "viral hit". No other online music service offers this feature and sets to allow Google an opportunity to carve out their own niche in the digital music world. 
So, if you're   ready to take the next big step by promoting and  selling your Album or Single  on Google Music, iTunes, AmazonMP3, Rhapsody  and many more 
SIGN UP NOW FOR FREE

iTunes Ping?
If you're an artist looking to promote your music, iTunes Ping is an incredible opportunity. Essentially, Ping is a social network created by iTunes designed to allow iTunes consumers to follow their favorite artists, follow their friends, and keep track of recent updates. Though of a similar layout to major social media networks such as Facebook and Twitter, Ping was created solely for music; what's more, the network is available on the go, with mobile versions available for the iPod Touch and iPhone.
Through Ping, users are able to follow their favorite artists by keeping track of what, when, and where they are playing. As a SongCast artist, it's easy to see how becoming involved with Ping is an excellent opportunity to promote your music. This steadily growing social music network allows millions of users to view and keep track of your recent activity as an artist. Users who are following you will have access to not only information about your albums, but also will have access to other features like what types of music you recommend to your followers. If you're looking for an interactive and dynamic way to promote your music, then Ping is definitely the perfect option for you!
FREE ARTIST & LABEL REGISTRATION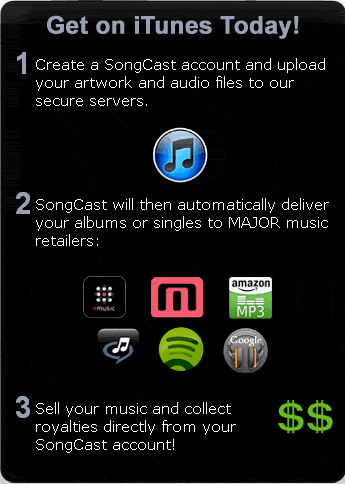 KEY FEATURES
Distribution to iTunes, AmazonMP3,
Google Music, Spotify & More
Ping Artist Account (the iTunes social network)
iTunes Daily Trending Reports
Chart Eligibility (Billboard, UK Charts)
Non Exclusive Terms, Control Your Music
Keep 100% of Your Royalties
Free UPC and ISRC Codes
Social Marketing Tools, Fan Outreach