Kiev Theologycal Academy Choir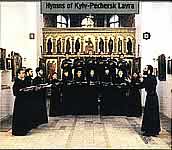 CD: All Night Vigil.
Traditional Worship
Singing of Kiev Pechersk
Lavra

BUY CD/MP3
iTunes
Amazon
In the early centuries of the church, Christians sang in unison. The music used was never written out, but simply transmitted orally.  The use of instruments in Christian worship was discouraged by the early church fathers (i.e., St. Basil the Great and St. John Chrysostom) as they felt that instrumentation distracted the mind from thoughts of God and turned them toward the self.
Traditional worship music of Kiev Pechersk (Caves) Monastery is unique heritage of the Orthodox liturgical music. Origin of this kind of liturgical music is in XI century in the monastery, founded by inok Antony arrived from Aphona. By the report of eye-witnesses, liturgical music of Kiev Pechersk Monastery are notable for solemn harmony, spiritual touching, prayer inspiration and peculiarity. True beauty, inner might, greatness, power - there was the reason for all Orthodox Christians as well as foreigners.


CD: Traditional Liturgical music of Kiev Pechersk Monastery
BUY CD/MP3
iTunes
Amazon
After having received Christianity from Byzantine, the early Russian Church soon began to modify the newly-acquired Byzantine chant, while at the same time drawing upon the musical experience of pre-Christian Russia. During the time of the Christianization of Russia, Byzantine priests brought with them the best Bulgarian chanters who made use of Bulgarian melodies (Byzantine melodies adapted to fit the language of the Bulgars, i.e., Slavonic). The Russians were attracted to these melodies which seems only natural considering that the Bulgars and the Russians share a common language.
Lavra's church choir music organically synthesize Byzantine tradition and folk-singing culture. Under the influence of south-Slavic songs, Lavra's worship singing gained a power and became one of brightest characteristics of the Orthodox liturgical music>
BUY CD/MP3
iTunes
The music sounds with the consent of the copyright owners

Kyiv Chamber Choir

Russian Sacred Music of the 19-20th centuries
This stunning CD of Russian Sacred music of the 18- 19th centuries is truly an example of why choral music is still being performed hundreds of years later. Revealing the deepest passions of composers such as Rachmaninoff, Tchaikovsky, Grigoryevich more, emotional performance by this award-winning choir will
leave you speechless.
read more and hear
ANTHOLOGY OF SACRED MUSIC


vol.1-2


Excellent introduction to Eastern Orthodox church music. This is truly angelic, other-worldly collection that, without a doubt, will melt your hearts
RECOMMENDED
read more and hear